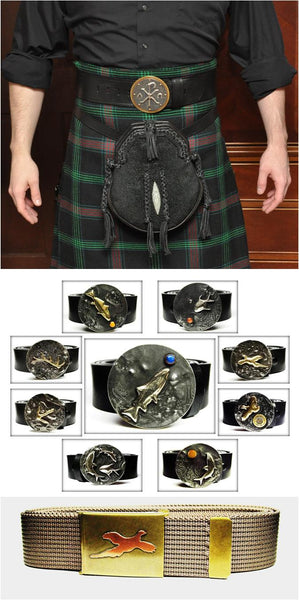 Every Buckle Tells A Story
I started making belt buckles when I bought a kilt. I needed a buckle to go along with all the other highland dress, and I could not find an artist crafted buckle. Everything was factory made. So, I bought some metal and taught myself basic jewelry making skills. Soon, I was selling kilt belt buckles around the world.
But hunting and fishing are my passion, so it was not long before I had to make myself a few wildlife buckles. Then others wanted them, just like what happened with the kilt buckles.
Every buckle tells a story. From "Having a Damsel for Dinner", to "Bug Out Bob", to "The Sundance Kid", I have designed each buckle with action so that it tells a story.
I personally make each belt buckle from six 100% recycled USA metals and gemstones. I use hand tools and traditional jeweler's methods to craft each buckle into art that you can wear 365 days, all year long.
Each buckle is partnered with a full grain buffalo leather belt.
I also am proud to make the world's best web belt: the GatorGrip© belt. My GatorGrip© sportsman's belts are the world's best because the solid brass GatorGrip© buckle stays where you put it, and will never slip during a day in the field, or on the water. I started making these because the store-bought belt buckles always slipped. What an aggravation. My GatorGrips are handsome, comfortable, strong, and rustproof! Satisfaction is guaranteed. See why "My toothy grip will never slip!"
Domestic shipping is free. First class, tracked, and insured. 
Mark Goodwin BS MAM DVM PhD DACPV
Captain, US Coast Guard (OUPV)
Apalachicola, Florida & Tiger, Georgia
A prized compliment
I can't quite express my gratitude for your making these three special belts, which I'll wear, I am sure, for the rest of my life. 

All The Best Good Friend,

Lefty Kreh